Log in
There are two ways to log in to your User account:
through the Central Authentication Service
by Reader card number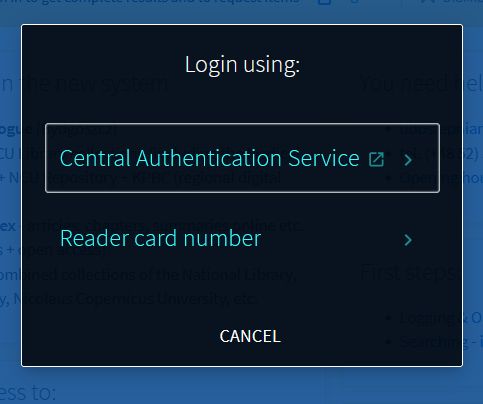 As of early July 2021, the Medical Library is operating on the new Alma library system with the Primo VE search engine. It is a common system and a common catalog for all NCU libraries in both campuses: Toruń and Bydgoszcz.
NCU readers – students, post-doctoral fellows, NCU staff and alumni – log in to the Primo search engine and user account ONLY through the NCU Central Authentication Service. Other readers – employees of the University Hospital, RCIM, and others – may log in using their Reader's Card Number and password ONLY.
For first-time log-ins, you may find this instructional video helpful: https://youtu.be/HW2Omtqqbsc
After logging in to your user account (My Library Card) you can check your active authorizations: loans and requests, fees, blocks and messages, as well as edit your personal details.
Search for a book
In the Catalogue you can search and order books (Search anything) or log in to your own library account (Sign in).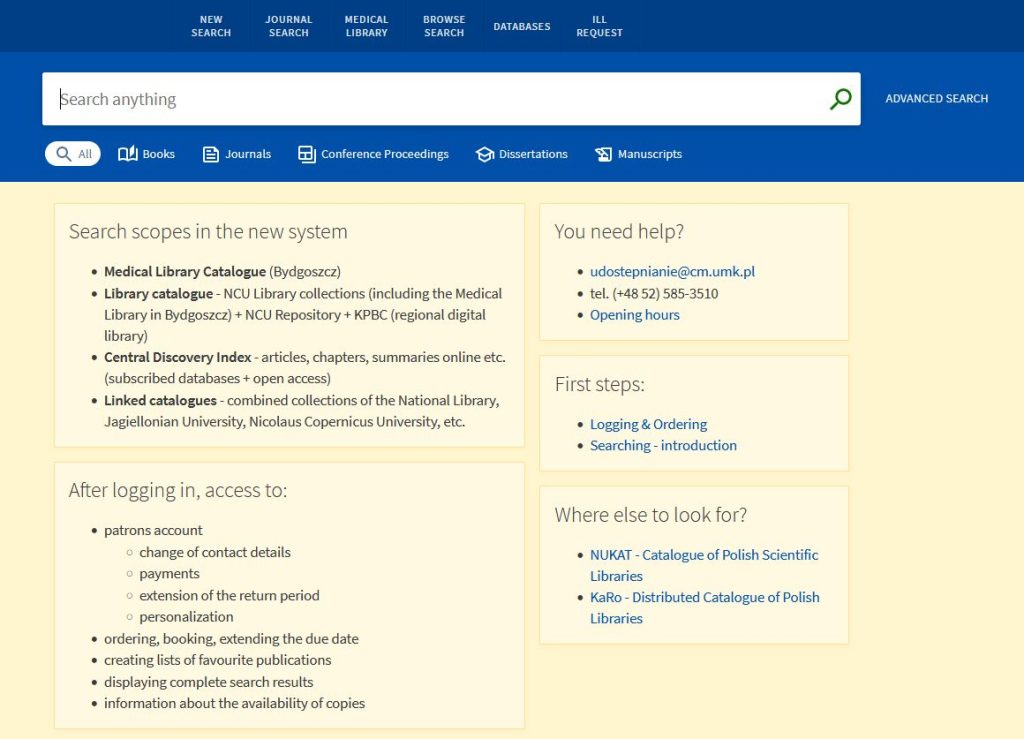 Primo Catalogue also offers more features, including:
searching by journal title (Journal Search), which allows you to find the yearbooks and issues of a particular journal title available in print or online. Journals cannot be ordered or borrowed, but can be read at the Medical Library.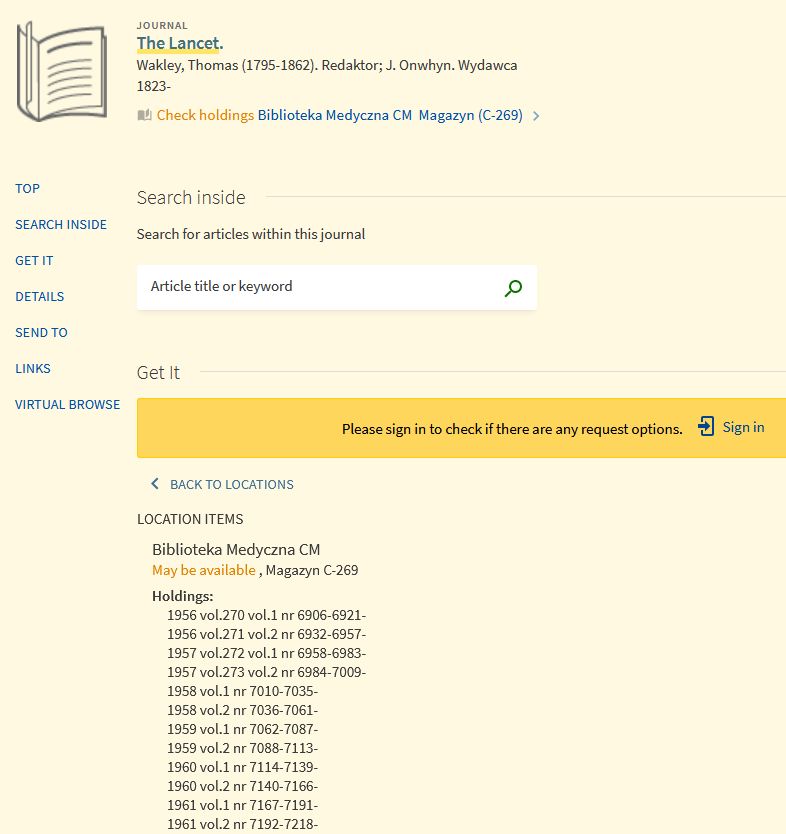 On library website you have access to the Online Resources (an alphabetical listing of all databases subscribed to or tested by CM NCU) to search individual e-journals and e-books collections.A tutorial video will make your first search easier: https://youtu.be/6L1dBb_2lvg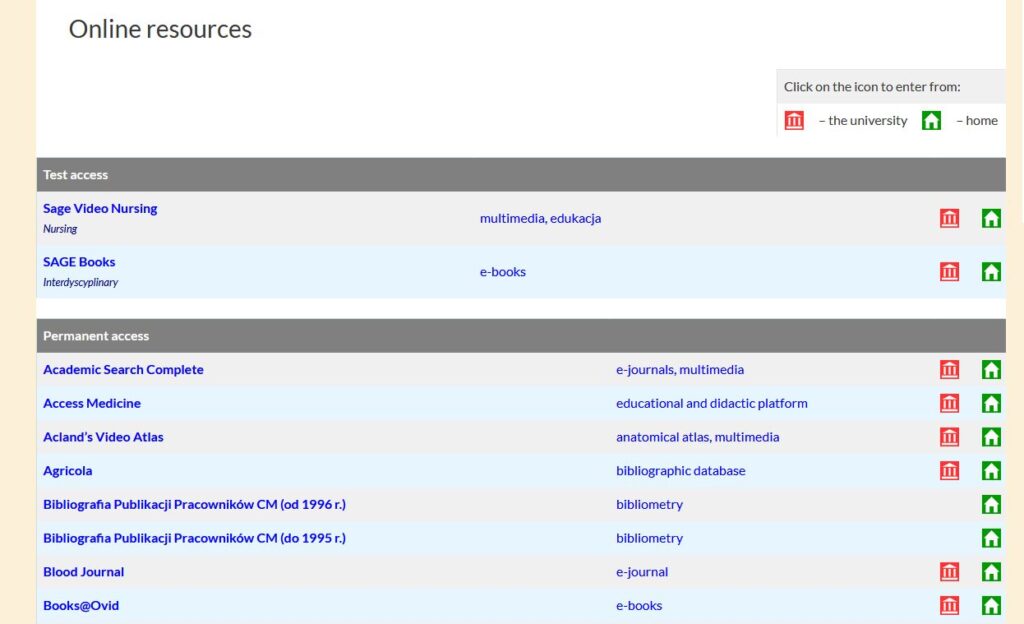 When starting a search in catalogue , you can choose to search in: Medical Library Catalogue, Libraries Catalogue (in Torun and Bydgoszcz, NCU Repository, KPBC), CDI (electronic resources: articles, chapters, abstracts, subscribed and open access) and in the linked catalogues of other libraries (e.g. National Library or Jagiellonian University).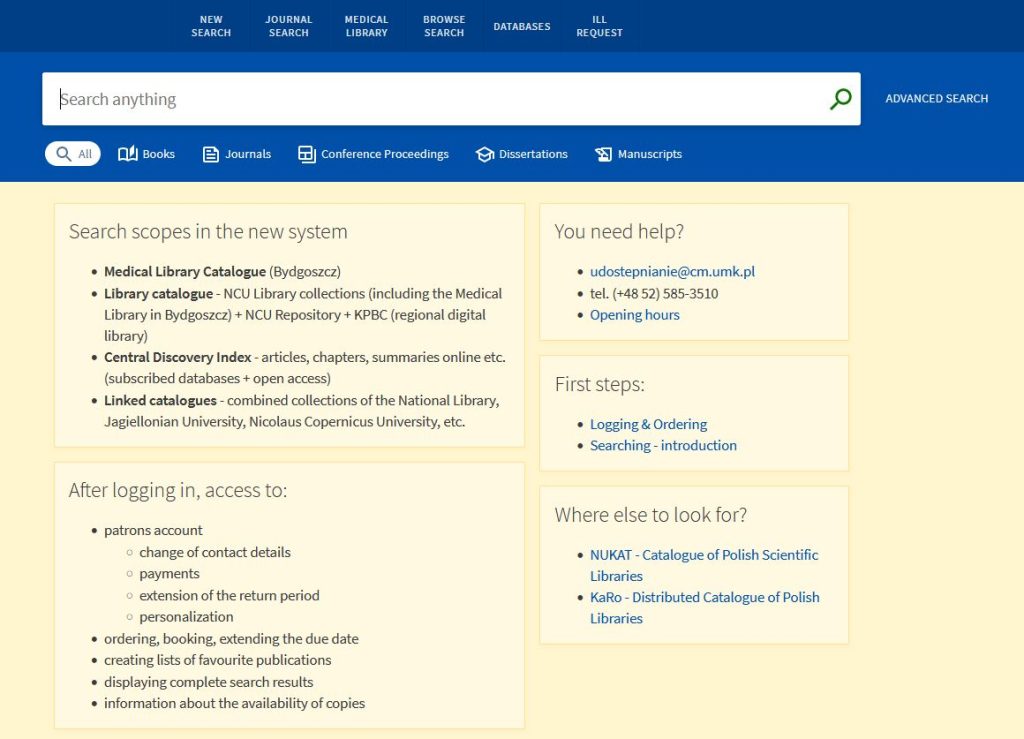 The search for "All" of publications is automatically set, but the reader can change the settings (e.g., by selecting only "Books", "Journals", "Conference Proceedings", "Dissertations" or "Manuscripts").
You can also use the facets on the left to narrow your search: Availability (e.g., "held by library" or "available online"), Creation date (e.g., the name of the book's author), Library (which libraries hold copies of the book, with Collegium Medicum students advised to order copies primarily from the "Medical Library Catalogue") etc.
Ordering a book
After searching for a book title, pay attention to the "Location" of the order. First and foremost, the copy must be in the Medical Library, but not in the "Czytelnia (Reading Room)" or "Depozyt (Depository)" – you will not borrow the book from these locations.
A book which is available for lending can be borrowed (button Request/Reservation).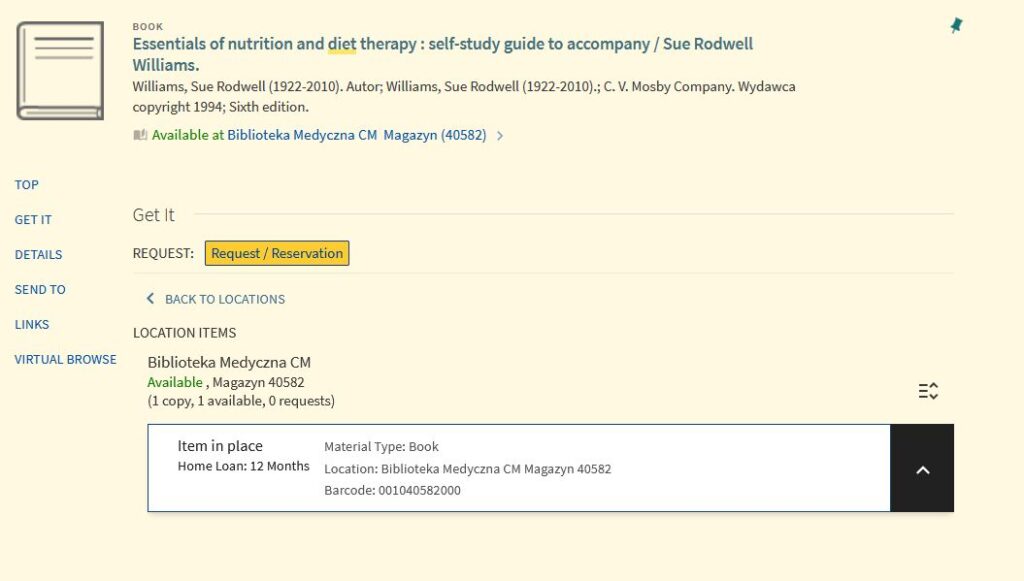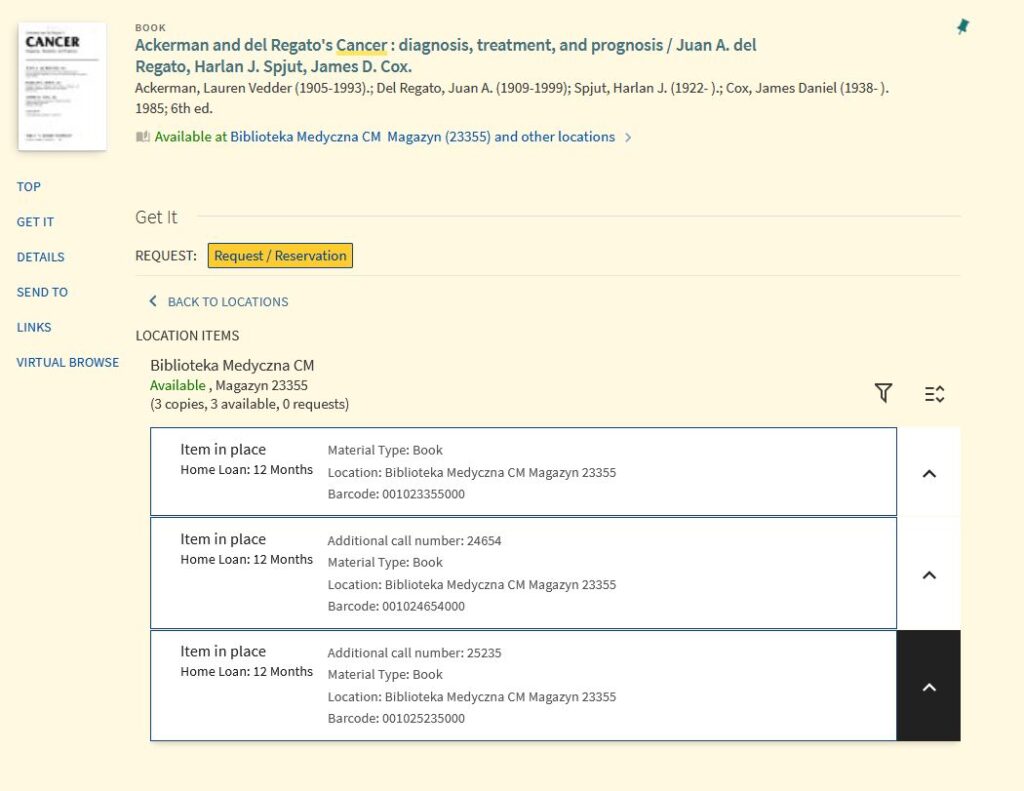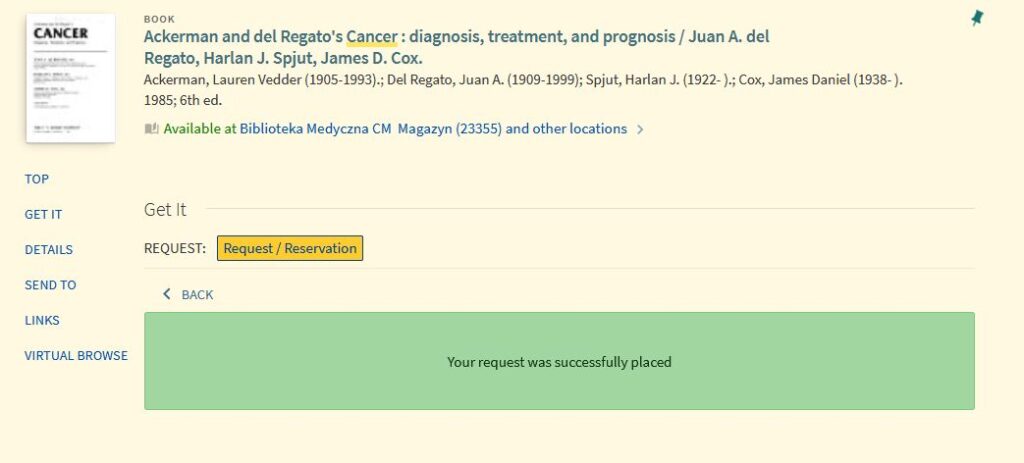 If the book is borrowed (Not available for lending, lent to…), it can be reserved (button Request/Reservation).
Students and employees of CM NCU are entitled to use and borrow books also from the University Library in Torun. But iIf you knowingly order a book from the Main Library of the Nicolaus Copernicus University in Toruń, please note that the reader will have to personally pick up the order in Toruń. Books ordered from the NCU Main Library are not brought to Bydgoszcz.After receiving an e-mail confirming the order, students have 3 days to pick up the book. If the reader is not able to collect the book within the three days, they can ask for an extension by phone (52 585 3510) or by writing a note in Notes when ordering.
A reader can collect books on behalf of another reader, if written authorization for this person has been previously submitted to the Library.
Extension of the loan can be made only 3 days before the return date. In case of reserving the book by another reader, renewal is not possible. "Out-of-date" borrowed books cannot be renewed either.
The reserved book must be collected within 3 days.
Students borrow books for a period of 30 days, with the possibility to extend the borrowing to the next months (month by month) up to a year, unless there is a reservation.
A student account can have a maximum of 15 books, but 10 titles can be requested at a time.
Readers receive an email notification when a book is about to be returned, as well as information about their activity on their library account.
Fee for an untimely return of a book
An untimely return of a book is subject to a fee of PLN 0.30 for each day of delay. The fee information does not appear until the book is returned.
The blocking of a borrowings, and thus the impossibility to borrow more books, takes place after exceeding 50 zl.
In the event of loss or damage to the borrowed book, the reader is obliged to buy back the same or a newer edition. If this is not possible, the reader must pay the relevant amount.